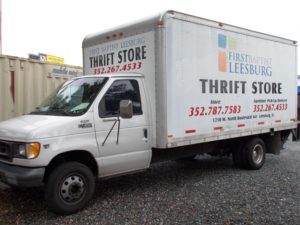 For pickups, please complete the form below. If you have any questions, you can call our store @ 352.787.7583
If you are dropping donations off yourself, our hours of drop off are: Monday-Saturday  9-4 pm.  We will help you unload your donations and give you a tax receipt.  Our driver also has tax receipts for your pickup.  Some things to keep in mind as you are looking to donate to the FBC Thrift Store:
We do not take any TV's that are older than 10 years.

We do not take any items that do not work.

We no longer accept books.

We do not take any food items or cosmetic items. Please take those to our benevolence center located on the Christian Care Center campus.

All furniture must be in "saleable" condition. Free from major stains or structural defect. Significant fading and style is considered as well.

We try to reserve the truck for furniture or larger items.  Please bring all other items to the store and we would be happy to greet you with our friendly volunteers to help you unload.

Please understand that our driver(s) have the right to refuse any item deemed unsaleable.
Sign up below to receive notifications via email of our upcoming sales and special events. We promise not to flood your Inbox and you can unsubscribe at any time.